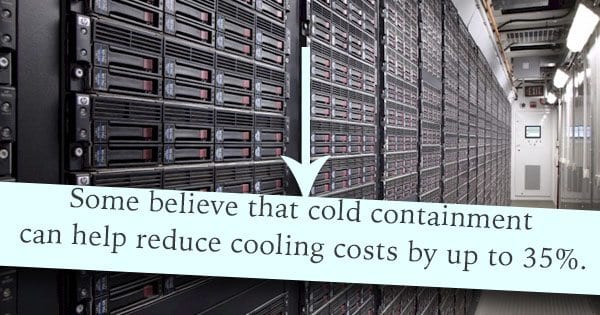 Data from our 2013 study shows that the benefits of cold aisle containment systems outweigh the hot aisle containment options. However, installing cold aisle containment is not always possible.
Cold aisle containment solutions essentially enclose the data racks in a room within the data center. This prevents hot air contamination and provides better targeted cooling.
But the reality is that cold aisle containment can be potentially dangerous. The National Fire Protection Association, as well as local fire codes, prohibit the construction of some cold aisle containment structures, as they are inaccessible in case of a fire.
Yes, cold aisle containers are much easier to build, maintain, and are less expensive in most cases. In fact, cold containment can help reduce cooling costs by up to 35%. Despite this, hot aisle containment options are often the better option from a compliance and safety standpoint. That's why the best cold aisle containment systems might not actually be the best option for your facility.
Benefits of Hot Aisle Containment Options
While cold containment applies cooler air to the equipment, heat is still being produced. Hot aisle containment harnesses the hot air in order to safely remove it from the room. By taking advantage of hot air's naturally tendency to rise, the air is able to be forcibly removed from the room as it is created.
Simply put, hot aisle containment has its benefits if implemented properly. Firstly, hot aisle containment works well in high density environments. With cooling costs consistently rising in the data center industry, it's much harder to use cold aisle containment for larger data centers.
In hot aisle containment, there is also a high capacity for air conditioning. When exhaust air is captured, it is conditioned and then returned, circulating constantly and consuming less air from other sources. The air travels a short distance and is conditioned at its warmest point and cooled more effectively.
While hot aisles are generally uncomfortable to be in, the excess exhaust does not dissipate through the entire room. The data center as a whole will usually be at a relatively comfortable temperature for human activity and adjustments.
Ultimately, It's a Judgement Call
All in all, choosing hot aisle over cold aisle containment doesn't come down to general efficiency. It's far more dependent on the construction of the data center and whether fire codes allow either containment system to be used.
If you're unsure which type of cooling system works best for your data center configuration, or want a fast quote, contact the AMCO Enclosures team today. When you choose the wrong server racks and containment systems, you'll end up paying for your mistake for years to come.